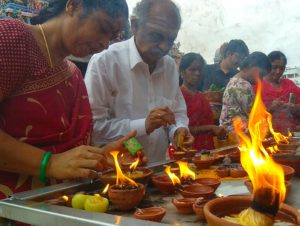 Karthigai Deepam celebration will be held at Sri Kapaleeswarar Temple, Mylapore from Dec. 10 to 13.
On Dec 10, special rituals and deeparadanai will take place for Sri Annamalaiyar. The chokka panai event will take place on Dec 11.
On three consecutive evenings from Dec 11, the temple tank will be lit with 10,000 lamps by a set of volunteers. People can view the decorated tank from 6 p.m. onwards.
Says Srikanth, a volunteer of the temple who leads the tank lighting, "Following the recent rains, the water level inside the tank has increased. So to ensure the safety of the public, we will not be allowing them inside the tank. They can view from outside," he says.
A few tables are also set up opposite to Sri Annamalaiyar Sannadhi for people to light lamps, throughout Karthigai. As Mondays of this season are considered auspicious, people gather here to light earthen lamps.
108 shankabhishekam will take place every Monday of this month. On the last Monday of Karthigai, 1008 shankabhishekam will be performed.