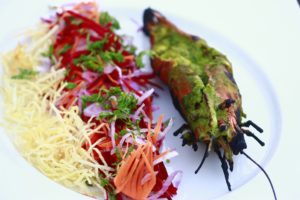 Above Sea Level, the terrace-located restaurant at The Raintree Hotel on St. Mary's Road is hosting the 15th edition of its seafood fest named Fish Bazaar – it opened on January 24 and is on till February 16.
Diners can walk across to the display of fresh fish, over 20 marinades and then choose from a few cooking options the chef offers you.
Chef Jai Shankar, sous chef at The Raintree, who has curated the festival says diners can choose from Barracuda, Snapper, Cat fish, Sword Fish, Tilapia, Mackerel, Mullet, Cuttle Fish, Seer and Shark, Hilsa, lobsters and prawns.
The marinades include Chimmichurri (an Argentinian sauce made with olive oil, red wine vinegar, garlic, fresh herbs, and spices) and Chermoula ( garlic, oil, lemon cumin and coriander). There are also spice mixes from Kerala and south Kanara.
Chef Shankar says diners can opt for clay oven cooking or the tawa fry, grilled or in the south Indian style.
A variety of sauces like Herb Lemon blanc (lemon juice, thyme, chives and parsley) and Citrus Hollandaise (white wine vinegar, orange juice, lemon zest, cayenne pepper) are on the table.
Rice and breads are also served.
Call 4225 2525 for reservations / details. The special seafood fest is for dinnertime only.