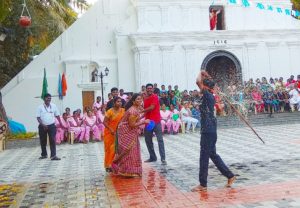 On Jan 27 evening, the campus of newly reopened Luz church was vibrant and funfilled. Seated on the steps in front of the Church, the nursing students and staff of St. Isabel's Hospital, Luz were intensively cheering their friends who were playing Uriyadi.
The community was celebrating Pongal festival. Said a member from the Hospital's management, "As most of our staff and students went to their native places for the Pongal holidays, we are celebrating the festival now."
She says, "In the morning, we drew a colorful rangoli and cooked sakkarai pongal at our hospital campus. Everyone from inpatients, their take carers, doctors, nurses and students at our College of Nursing were involved in the celebrations."
Folk dances like Kolattam and Karakattam were an integral part of the festivities. A staff of ours also sang a special 'Pongal song' that was composed by one of our well-wishers, she says.
In the evening, to avoid any disturbance to their patients, the group organized some fun games on the campus of Luz Church, which is very near to this hospital.