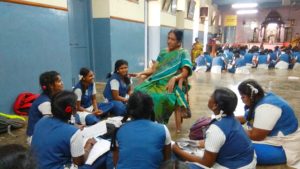 Ahead of State Board exams for classes 10, 11 and 12, some schools in Mylapore have started holding special classes for the students who will take the exams.
The public exams for class 12 is set to begin from March 2. Consecutively, the exams for Stds. 11 and 10 will take place.
At Lady Sivaswami Ayyar Girls Higher Secondary School, Mylapore, groups of girls are attending two-hour long extra classes (4 p.m. to 6 p.m.) held after school hours.
Ruby Puthotta, the principal of the school says, " As most of them come from poor backgrounds, they do not find a suitable environment at their house for studying."
The school is also serving them snacks like pongal, sundal and upma.
Elsewhere, at CSI School for the Deaf in San Thome, special classes are being taken till 10 p.m. Says Gladys, a school teacher, "Since the children have a hearing difficulty, extra attention needs to be given to them. So we (teachers) take turns to take classes for the students who are mostly hostelites."
This year, she says they have asked the day scholars also to stay at the hostel for residential coaching. They would stay here for three months until the exams get over. "As most day scholars are first-generation learners, there is no one to guide them. The parents themselves are willing to leave them here," says Gladys.