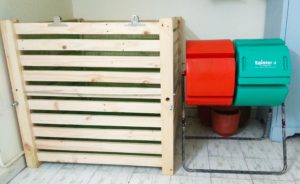 Citizen Consumer and Civic Action Group (CAG),a  NGO has recently developed a micro waste-composting demo unit at its office on J. J. Road, Alwarpet.
The team at CAG says that this model will require only minimum maintenance and is designed to prevent bad smell, which usually generates from the compost unit.
It will be suitable for apartment complexes where there are some 40- 50 families.
The simple model can process two tonnes of biodegradable waste in 40 days. It is made up of a unit of wooden slats of size 4ft x 4ft x 4 ft.  The removable wooden bars with gaps in-between provide appropriate air-circulation for the composting process. A wire mesh is fitted inside to prevent the bio-degradable waste from coming outside the structure.
It has been developed based on the 'Thumburmoozhi model' of Kerala.
Says Vamsi Sankar Kapilavai, senior researcher, urban governance, CAG, "The structure has to be alternatively filled with equal layers of bio-degradable waste and dry leaves (6 inches of bio-degradable waste and 6 inches of dry leaves.) The top layer has to be leaves."
The dry leaves sandwiched between bio-degradable waste will help in absorbing moisture from the waste. "In addition, it will also generate carbon required for the composting and will keep houseflies away."
An effective micro-organism (EM) solution can be sprayed on it to generate microbes required to enhance the composting process.
Says Vamsi, "We can help people keen to duplicate this model by giving a demo. We will also provide them with an engineering drawing of its design that will help them in constructing it."
Residents living in apartment complexes who may want to replicate the model may contact CAG at 24660387. Address: 246, J. J. Road, Alwarpet. Open from 9.30 a.m. to 5.30 p.m.
Photo here shows the Thumburmoozhi model' at CAG with a rotating composter next to it.