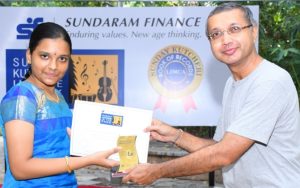 As a part of the monthly Sunday 'Kutcheri at the Park' event organised by Sundaram Finance, 14 year old Mahathi, a student of guru Shubha Ganesan presented a lively kutcheri at the Chess Square of Nageswara Rao Park, Luz today morning (Feb. 2). She was accompanied by G. Vagadeeshwar on the violin and by S. Aniruddh on the mridangam.
N. Sriraman, senior GM, Sundaram Finance presented the certificate and memento to Mahathi at the end of the kutcheri.
The event provides opportunities to youngsters to sing in front of an informal park audience. Mikes and speakers are not used at this event. For details call 9444040748.