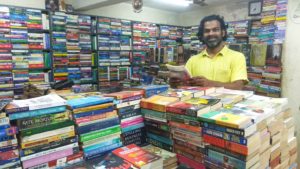 At a time when reading books online is becoming popular, Murugan Old Books Shop  on South Mada Street, Mylapore is still drawing many clients.
So why is this book store located near Hotel Karpagam drawing clients?
The business here rests largely on the sale of second-hand engineering books and books on competitive exams. But there are many people who seek popular novels too.
Says R. Rajesh, the shop-owner, "In recent times we see people are back to reading physical books."
Here, you  can choose from bestselling fiction 'Immortals of Meluha' by Amish Tripathi and 'First Things First' by Stephen R. Covey and non-fiction too – we spotted a book on legendary Bharatanatyam dancer Balasaraswati.
Says Kalaivani, a chartered accountancy student who was browsing for Paulo Coelho books, "They have a good collection of books and the discounts offered are very good. They are affordable."
The story of the shop goes back to a period before India's Independence. Says Rajesh, "Prior to Independence, my grandfather A. Manikamiyer started a 'petti kadai' for 'old books' on R. K. Mutt Road in the area where  Thirumayilai MRTS railway station stands today. His idea was to imbibe the reading habit among people. So he used to visit every house and collect second-hand books which they might have kept aside after reading. To make it affordable, he sold it for low prices or sometimes give them for free."
Word-of-mouth buzz across Mylapore brought more customers to the shop.  People began to donate old books. Today, the store has around 80,000 books, all donated by people.
The stock includes old and rare books that have long gone out of print. "People are interested in reading  rare religious books: like the Bhagavad Gita published in 1936," says Rajesh, a third-generation member of Manikamiyer's family.
But there is a flip side of this business – the big discounts on books offered online by the big businesses dent the sales at Rajesh's shop.
The store also has a branch at Kolli Hills in Namakkal district of Tamil Nadu.
People who wish to donate books may do so at 43, Prasanth Complex (basement), South Mada Street, Mylapore. Ph: 42188815, 9444707771.