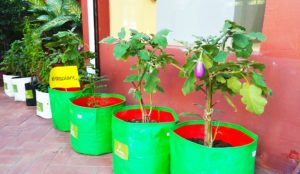 Organic vegetable plants in the fruit-bearing stage are available for sale at Spirit of Earth store at CIT Colony, Mylapore.
To inspire people to grow their own veggies, Krishna Arvind, a 13-year-old has taken up this initiative.
Says Jayanti, manager of the store, "Krishna grows plants at his home till the flower/fruit-bearing stage and then brings them for sale at the store."
"We believe people visiting the store will get inspired to grow plants when they see the veggies growing."
Sheela Balaji, Chairperson and Managing Trustee of Spirit of Earth and the grandmother of Krishna is the inspiration behind his initiative. Says Krishna, a student of Sishya School, Adyar, "My grandmother inspired me to take up this work. "
At present, Krishna grows around 30 plants at his home in Poes Garden, Teynampet. The varieties include brinjal, basil, mint, okra, and tulsi. "I'm also experimenting with new varieties like aloe vera and lemongrass," he says. All of them are available for sale at the store. Krishna also helps people to set up a terrace garden.
The young boy says he plans to convert this as a full-fledged business.
The plants are priced from Rs 50 onwards. Each plant comes with a note that lists the instructions to be followed to take care of the plant.
Spirit of the Earth store is at 4, Srinidhi Apartments, Desika Road, CIT Colony, Mylapore. Open from 10 a.m. to 5 p.m. Ph: 24987955.