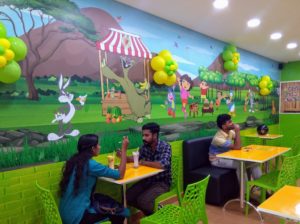 Popular cartoon characters like Tom and Jerry, Bugs Bunny, Chota Bheem and Dora, all in the backdrop of a beautiful landscape – this is the image that stands out at this new juice shop in Mylapore.
The promoter of the restaurant Bairavi Dineshkumar has specially designed it in one of the walls to attract people, especially the kids.
Says Bairavi, a resident of Mylapore, "We got special artists to draw the cartoon characters. They were later put together after the landscape was drawn."
The wall has now become a hit among the selfie lovers.
Called 'Juice World', the 700 sq. ft. restaurant is adorned with bright yellow and green coloured walls, tables and chairs. It can seat around 30 people.
It is a franchise of Chennai based Juice World. Says the homemaker and mother of two, "Opening a business of my own has been my long-time dream. Being a food lover, I wanted to cater to the people of all ages. And Juice, I thought would be the right choice."
She says her husband Dineshkumar helps her in this effort.
The shop has over 100 varieties of juice ranging from sweet lime and carrot extract to unique combinations like Mango Tango (orange and mango combination) and Hot and Cold, that is a mix of mint, ginger, orange and grape.
Their smoothies and faloodas seem to be very popular . Says Bairavi, who is also a passionate cook," Faloodas, sandwiches and smoothies have already become popular among the school and college students."
Smoothie varieties include red velvet, nutella, and coconut chocolate caramel. Rose, kesar, black current, and dry fruit are some of the falooda options available. They also offer a range of ice-creams and sandwiches.
The shop also intends to host small birthday parties and other functions here. "We can make decorations and customize the menu to suit the functions, " she says.
The price of the juice ranges from Rs 70 to Rs. 100. At 150/63, P.S.Sivaswamy Salai, near the Madras Sanskrit College, Mylapore. Takeaway facility available. Timings: 11 a.m. to 11 pm. Ph: 9500162314.