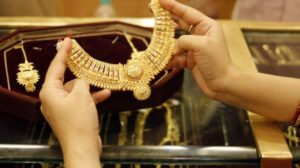 This year, the lockdown has dampened the Akshaya Tritiya sales.
As buying jewels on Akshaya Tritiya day is considered auspicious, every year, people throng jewellery stores on this day to buy their favourite gold/ silver jewels.
However, on Sunday, during the occasion of Akshaya Tritiya, the jewellery shops in the neighbourhood had to remain shut.
Says Vignesh, marketing executive at Kirtilals Jewellery, C.P.Ramaswamy Road, Alwarpet, "Due to the lockdown, we have lost Akshaya Tritiya sales, which provides us huge profit in a year. As we cannot keep the shop open, we have started promoting online sales. We have launched an Advance purchase scheme wherein customers can book the gold in advance and purchase it when our showroom opens after the lockdown."
The gold rate at the time of booking will be considered to calculate the bill, he says. The shop is also offering discounts on gold and diamond jewellery. The offer is valid until April 30th.
For more details visit their website at https://www.kirtilals.com/akshayatritiya.
Similarly, NAC Jewellers that has an outlet on North Mada Street is offering a facility for customers to book gold/ silver online through their website. The customers may collect the jewels after the store reopens. It is offering Rs 1000 discount on gold per sovereign and Rs.2000 discount on silver per kilo.
This offer is valid till April 26.
For details visit their website at https://www.nacjewellers.com/
Picture courtesy: www.inventiva.co.in/