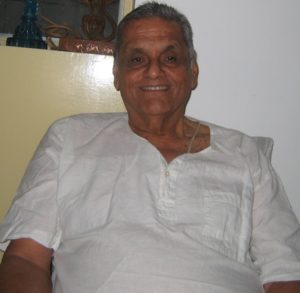 Tennis legend Ramanathan Krishnan is 83 years old but his discipline towards fitness at this age may stun even the younger generation.
With the restrictions over the last two months, Krishnan has been using the space around the tennis court located off his CIT Colony home for his early morning walk.
Each day of the lockdown, he has begun his one hour walk at 5.30 am.
Since the early 1960s, Krishnan has been running the Indane Gas Agency (IOC) on Thiruvengadam Street in Mandaveli. Managing the agency has kept him busy in his post retirement days.
However with the lockdown in place and with the restrictions on movement for senior citizens, his son, another legend of Indian tennis, Ramesh Krishnan has been managing the work at the gas agency.
Ramesh Krishnan says that things have been going on smoothly at the Indane Gas Agency since the lockdown "We have been following all protocols laid down by our principal, Indian Oil Corporation."
In the mid 1970s, Ramanathan Krishnan built a tennis court in CIT Colony at the junction of Oliver Road, where he has been residing over the last few decades.
Krishnan was India No. 1 for almost two decades, Asian champion for five years and a National champion 8 years in a row. He still remains the only Indian to have reached the semi-finals at Wimbledon twice.
Krishnan continues to track developments in the tennis world. Following his disciplined fitness regime, he reads newspapers to keep himself abreast of the developments in the sporting arena. Despite his age, he says he actively participates in sharing the workload with his wife and ensures that the house is clean.
His wife has been spending the lockdown period managing the garden around the tennis court.
Mylapore Tennis memories
Ramanathan Krishnan also has rich memories of his tennis days in Mylapore.
It was in the then prestigious Mylapore Club tournament over six decades ago that he won the singles on the Eastern Court and then combined with his father to bag the doubles crown as well. It was also at the Mylapore Club that Krishnan first met with T V Balagopal, a renowned tennis player of that generation.
Watching Balagopal play inspired Krishnan and spurred him on to perform better.
Ramanathan Krishnan resides in CIT Colony, while son Ramesh Krishnan lives in R A Puram.