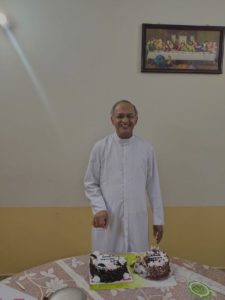 Rev. Fr. Y.F. Bosco, the parish priest of Our Lady of Guidance Church also known as  St.Lazarus Church is celebrating his 35th year of priestly ordination.
He had a quiet celebration to mark this milestone earlier this week. For, the church is closed since the lockdown to battle the virus and few people visit the campus now.
He was ordained priest on 7.5.1985 by Rev.Dr. Arulappa.
He served at the San Thome Cathedral and then at St. Teresa's Church, Nungambakkam. From there he was transferred to Holy Spirit Church at Meenambakkam.
He then served at Pastoral Centre, San Thome  and later at the Infant Jesus Shrine at Manali for 9 years till 2006.
For a short period of time till 2007 he was transferred to St. Antony's Church at Pudupet. Later on he served at The Holy Family Church at Nazareth Nagar and then at St. Antony's Church at Taramani.
He was transferred to St.Lazarus Church in May 2019.
Father Bosco has a brother who is a priest with the Salesian Order and a sister who is a nun at a convent in Vijayawada.
He was honoured with the title 'Goodwill Ambassador' by the government of Israel as he has taken more than 1000 people on a pilgrimage to the Holy Land.
– Report by Juliana Sridhar