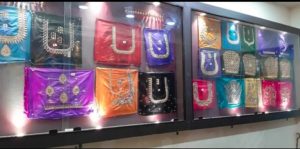 V. Manoj Kumar has been running a tailor shop for women, Classic Creations, at Mandaveli for ten years now. He is well known for his designer wedding blouses, saree embroidery work, pattu pavadai and boutique quality salwars and chudidars.
He says, "The lockdown has been tough on us. From April 15, we usually get a lot of orders till the month of Aadi as there are several auspicious days (muhurta naal) when marriages, ayushomams and other events are held. After the lockdown was announced, many of our customers postponed their marriages to August and so several orders got cancelled".
He continues, "We have 14 people working for us. Every year, our employees take a break during the month of March and come back by the end of March to start work again. This year, because of the lockdown several employees couldn't come back. Only 6 of them returned and though the shop was closed, we paid their salaries".
He adds, "I opened the shop on Monday morning (May 18) as we must go on with our lives. We have to make lifestyle changes to avoid getting infected and must get used to the fact that this is our new normal now. At our shop we have implemented several social distancing measures. Employees will take turns to come to the shop, there will only be three of them at a time at the shop. All the sewing machines have been rearranged with adequate space between them. Employees will wear masks, hand sanitizers are ready. All the sewing machines, scissors, needles and other tailoring tools that we use will be disinfected regularly".
He says that customers are given appointments and asked to come at that specific time only. "Women who want to get blouses stitched for weddings typically take an hour looking at designs in our shop. If they cannot drop in to check out our designs, they can call us and we will send the designs through whatsapp. They can also send us pictures of their wedding sarees and we will recommend designs for them. When the women come to pick up the order, they usually use the trial room to see if the fit is good. We have closed the trial room now".
Manoj Kumar's shop is located at 16, Mari Chetty Street, Mandaveli (near Mandaveli market). They are open from 10 a.m. to 6 p.m., Monday to Saturday. Ph: 9444217331.