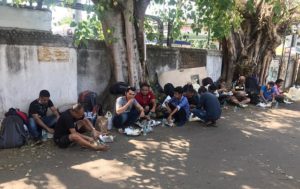 Sekar Viswanathan, the founder of Mylapore based NGO Viswajayam Foundation, on his morning walk today found a group of migrant workers taking shelter under the flyover near Music Academy, Alwarpet. He decided he had to do something to help them.
He says, "I enquired and found out that about 30 migrant workers had arranged for a bus to take them to Uttar Pradesh. From there they planned to go back to their village in Nepal. The bus driver was supposed to pick them up yesterday night but he didn't come and so they stayed back there waiting for him. We arranged for breakfast (idli and poori masala) and water bottles were distributed to them too. We also gave each of them Rs. 500".
A little after noon, Sekar says he contacted them again to find out if they have left but he couldn't reach them.
The foundation, which is located at R. H. Road, Mylapore accepts donations. Contact Sekar at 9380022773 for details. You can also send an email to viswajayam.fn@gmail.com.