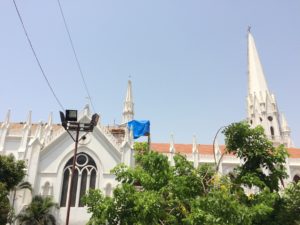 The annual feast of saint Thomas will be celebrated at San Thome Cathedral from June 30.
All services will be celebrated by a few priests and some by Archbishop Rev. George Antonysamy but because of pandemic time regulations, the laity and religious cannot participate in the services. These will be webcast on Santhome TV.
On June 30, there is rosary, novena, flag hoisting and Mass.
On July 1 and 2, there is Mass at 6am  and also novena and Mass at 5.30 pm.
On July 3, the saint's feast will be celebrated with three Holy Masses – 7 am, 10 am ( Mass by the archbishop in Thamizh) and 5.30 pm.
This is the link to get info on feast details and the web cast – https://www.facebook.com/santhomechurch