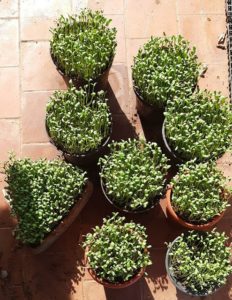 Sumithra Srikant, a resident of R. A. Puram, has been growing organic vegetables and microgreens in her garden for more than 15 years now. She also runs a garden store, Aapti Gardening Solutions, at Alwarpet.
With the store closed during the lockdown, Sumitra has been giving out gardening tips to several garden enthusiasts. She says that seeds, grains and other raw materials that we use everyday for cooking can be used to start your own garden.
She says, "Many people are of the opinion that you need to invest a lot of money to have your own garden. But that is not so. This is the season for turmeric to grow. Put a small piece in a little loose soil and your turmeric plant will be ready before pongal next year. Each red chilli has more than 30 seeds and each seed can be used to grow a plant. The same holds true for capsicum too. Those who grind their wheat to make flour can pop a few seeds into the soil. The wheat grass that grows can be used to make tasty and healthy juices".
The microgreens from fenugreek (seen in the picture), mustard and coriander seeds can be harvested in 12 days, she says. "Soak the fenugreek overnight and plant it the next day and it will grow very fast. Mix up a few seeds and plant it together and you will get a great assortment of fresh microgreens which are very healthy too".
Sumithra who recently took an online course in gardening through Zoom says she plans to start one more session soon. For details contact her through Whatsapp at 9962654868.
SUMITHRA'S PEST CONTROL TIPS
Always remember the 3G's when it comes to pest control, she says. Ginger, garlic and green chillies. "Take 20 gms of each and grind with a little water. Add it to 100 ml of any oil (coconut, groundnut or any other oil used at home) and allow it to soak for atleast a week. To prepare the pest solution, first add one soap nut to one litre of water and allow it to soak for a couple of hours. Then remove the soap nut seed and add 1/4th of a teaspoon of the oil to the water. The solution which is now ready should be sprayed on the plant, only on the infected area for five days. The solution acts like an antibiotic. It must be sprayed early in the morning or late in the evening only".