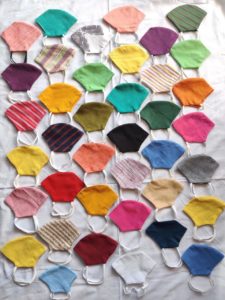 Tahi Moda, an e-commerce venture run by accounting professional Yegnesh Tawker of Thiagarajapuram, Mylapore and his friends is selling 100% organic Khadi face masks.
These are lab tested, 95% bacteria filteration efficient for >0.6 micron bacteria, easily washable, reversibly wearable, and come in various colours.
One size fits all, says a media release from the promoters.
They are available in packs of 3 (Rs 299), 5 (Rs 449), and 10 (Rs 799). Ordering can be done online at
https://pages.razorpay.com/tahimoda
. Delivery is arranged by courier and subject to area-wise logistics due to the prevailing situation, reaches the destination generally between 3-7 days.
For more details, contact/Whatsapp 8072956114
– Report by Karthik Bhat