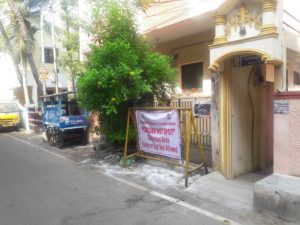 The Coronavirus outbreak that affected Mylapore by late March has now spread far and wide affecting hundreds of people in the neighbourhood.
Also, many different developments have taken place at the ground level.
Virus cases have since been reported from different areas including San Thome, R.A.Puram, Abhiramapuram, Mandaveli, Nochikuppam, and Thiruvalluvar Salai.
Listed below is the timeline of life in the zone from May 31 to June 17.
May 31: A couple tested positive from Bhaktavatsalam Street. Also, cases were reported from Nochi Nagar, Lynn Pereira Street, R.A.Puram Second Street, and Eldams Road.
June 1: Local salons re-opened, after the government allowed them to function following precautions to prevent the virus spread.
Also, a number of Mylapore's schools formally opened 'online'  their new academic year for 2020-2021. The schools mailed / WhatsApp-ed this information to parents. They had guidelines that students must now follow during online classes.
The day also witnessed the burial of Fr. Paschal Petrus, a senior Catholic priest belonging to Archdiocese of Madras-Mylapore who passed away on May 30, aged 70, due to virus complications. He was the first diocesan priest to contract the illness and his body was buried in the special cemetery adjoining the campus of Our Lady of Light Church in Luz.
New virus cases were reported at Madhavarao Puram, Pallakuma Nagar, Ellai Amman Koil Street, Saradhapuram First Street, VSV Koil Street, and Luz Avenue Second Street.
June 2: Virus cases were reported from Andimaniya Thotam, Lein Perira Street, R.K. Mutt Road, Mosque Street, Mundagakanni Amman Koil area, Paripoorna Vinayagr Koil Street. And three cases were reported at Alamelumangapuram. The spread was even across Mylapore.
Assistant Commissioner of Police (ACP) attached to Mylapore police station off Kutchery Road tested positive – he was kept under home quarantine.
June 3: More cases reported from Andimaniya Thotam, Pallakuma Nagar, and Nochikuppam. Also, new virus cases were reported from Appu Mudali Street, Mari Chetty Street, Sathyavani Muthu Nagar, Seethammal Second Street and Chidambaraswamy Koil Street, near Apparswamy Street. The spread is again across the area.
June 4: Meenambalpuram a congested 'slum' colony ( behind Citicentre) reported a new case, after a long time. Also, four streets – Devadi Street, CID Quarters off Venkatakrishna Road, Salai Street, and Nadu Street reported their first virus cases.
June 5: Cases were reported from Warren Road, Abraham Street, Venkatesa Agraharam Street, R.K. Nagar First Cross Street, R.A.Puram Second Main, Mathala Narayanan Street and Pitchu Pillai Street. Also, Dr Radhakrishnan Salai saw its first case with a person testing virus positive at Rajasekaran Street. So cases were not only from congested areas but upper-mid class colonies too.
The Deputy Commissioner of Police for the Mylapore zone tested positive – was under home quarantine.
June 6: KVB Gardens reported 18 new virus cases. This thickly habited colony in R.A.Puram reported its first case in early May. Since then, over 50 cases reported – this is a 'hot' zone, containment area.
Areas of Veera Perumal Koil Street near Thannithurrai market, Mundagakanni Amman Koil Street, Kutchery Road, CIT Colony, Sringeri Mutt Road and Canal Bank Road reported cases.
Cases were also reported at R.A.Puram Fourth and Fifth Main Road and at Kesavaperumal Koil Street.
June 7: Visalakshi Thotam a thickly habited area reported its first case after a 50-year-old man tested virus-positive. Also Sundareswarar Swamy Street, Chitrakulam North Street, Radhakrishnapuram, a colony in R.A.Puram, Govindaswamy Nagar and Lady Desika Road reported virus cases
Cases in two spots on R.A.Puram 3rd Main Road, one in a posh apartment complex on R.A. Puram 4th Main Road and one in Canal Bank Road.
June 8: A few restaurants including Nitya Amirtham and Ente Keralam opened for dining, after the government allowed dining with restrictions; others stuck to takeaways. A few food joints in R A Puram and Abiramapuram also opened to diners, takeaways.
June 9: PNK Gardens, a thickly inhabited colony off Buckingham Canal (opposite Kalvi Varu Street) in Mylapore reported over 49 cases. In mid-May, this colony had reported 13 cases. This was treated as 'hot' zone. It was 'contained' quickly – police posted, streets blocked.
Cases were also reported for the first time at Kalvi Varu Street, C.P.Ramaswamy Street, Judge Jambulingam Road, Musuri Subramaniam Road, Parthasarathy Gardens, Alwarpet and Prithivi Avenue.
Dooming Kuppam and Demonte Street also reported their first virus cases.
June 10: Cases were reported at TSV Koil Street, Muthukrishnan Street, and Sanjeevi Street.
Tamil Nadu state minister for higher education, Anbalagan, R. Kamaraj appointed to oversee pandemic operations in a few zones in the city, including Adyar zone ( under which ward 173 – KVB Gardens area – falls) toured the area.
In inner Mylapore, small service shops – jewellery-making and polishing, metal goods, lifestyle accessories, etc open.
June 11: Fresh cases reported at Thandavan Street, P.V.Koil Street and Ellai Amman Koil Street
June 12: Five new virus cases reported at Kailasapuram in Mylapore.
June 13: Four virus cases were reported in one household at Paripoorna Vinayagar Koil. Also, cases were reported for the first time at Ramakrishnapuram, a colony off M.K. Amman Koil Street, Custian Beach Road, and Dooming Street. And, two police officers tested positive at police quarters in Dr Radhakrishnan Salai.
At Rakkiyappan Street, 3 cases were reported in one household.
June 15: Cases reported at Foreshore Estate, Vanniyampathi and Mulimmanagar. Also, at Kesavaperumal Koil Street, two cases were reported in one household.
June 16: Cases in areas including Narasimhapuram, Marwadi Thotam, Sathyavani Muthu Nagar, Katukoil Garden. Also at P.V. Koil Street, two cases were reported in one household.
June 17: Two cases were reported at Adanjan Mudali Street. Also, in Anandam Colony off South Canal Bank Road in Mandaveli reported its first case.
Queues are seen at some banks as people are keen to withdraw cash since lockdown is back again from June 19. But no signs of panic shopping in markets and shops, save in some large stores.
Information collated from GCC, activist Baskar Seshadri and Mylaporeans besides Mylapore Times reportage.
Note: In this record, not all cases are listed or their condition updated in the Chennai Corporation data. MT relies on trusted local sources too.