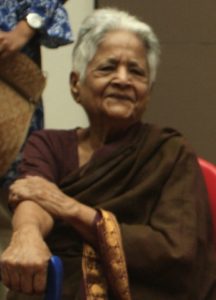 Dharmambal Vaidyanathan passed away at her residence at Luz Avenue, Mylapore on June 25, 2020 at the age of 96 years, hours after taking a COVID-19 test and testing negative.
Born on September 16, 1924, she was the daughter of Rajammal and M.Subbaraya Aiyar, a well-known advocate, Palathope, Mylapore.
She was born and brought up in Mylapore and was married to A. Vaidyanathan, an engineer, entrepreneur  and partner of Evans, a small-scale industrial enterprise at Ambattur Industrial Estate.
She studied at Lady Sivaswamy Aiyar Girls' High School in Mylapore and graduated with a gold medal in music from Queen Mary's College. Music was an integral part of her life.
After her early music tutelage with Devaraja Mudaliar and Venkatagiriappa, she came under Madurai Mani Iyer.  She took special lessons on Dikshitar's compositins from Cheranmadevi Subrahmanya Sastrigal and later under B. Rajam Iyer.
She learnt Papanasam Sivan songs from Mani Bhagavathar, a senior and prime disciple of Sivan. She had in her repertoire many compositions of Uthukkadu Venkatakavi thanks to Uthukkadu brothers who were specialists of those songs.  Blessed with a steady voice and clear enunciation of lyrics and swaras, she picked up nuances on listening to her gurus only once. She was her teachers' delight and they eagerly awaited classes with her and built her foundation.
Padam Gowri ammal, the great dance legend was her niece's dance teacher and a frequent visitor to her house. She imbibed many padams and javalis from her.
Raghunath Panigrahi, also a family friend and frequent visitor, taught her many ashtapadhis of Jayadeva. She learnt bhajans from Ramamurthy Rao.
She had a brief singing career with performances over All India Radio – AIR. She devoted her time to home-making and teaching nieces, friends and those who desired to learn from her. She was exacting in her standards of shruthi and laya and followed the traditional rendition with the right intonations to bring out the bhava and bhakthi of various styles of compositions.
In later years, she became her own guru, adding to her musical treasury by learning from notations and adding notations to compositions which had none. A vidushi in her own right, she did not come under the arc lights of the performing stage. As they say, some flowers are born to blush unseen.
As a home-maker, she delighted and treated her family and relatives to goodies of different kinds. She was good at knitting crochet and other crafts.
Her determination and will power in everyday life was inspiring to the youngsters and came to the fore during her last days when she fought Covid 19 and succeeded in testing negative.
Her family said that her message to all at this time was not fear the virus but fight it bravely. During her quarantine and treatment, she listened to music and enjoyed the nuances of different ragas.  Her last conscious wish was to listen to Aragimpave by saint Thyagaraja and rendered by the late music maestro GNB.
She leaves behind her daughter Lakshmi Radhakrishnan, a grandson, granddaughter and their families.
Written by Shobana Ramkumar