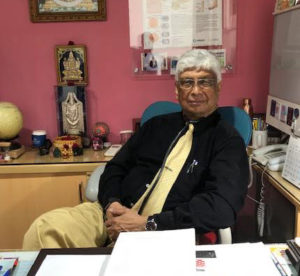 On June 8, 2020, Dr. N. Rajagopal, Cardiologist and Diabetologist, passed away peacefully in the comfort of his home in Luz Avenue.
Dr. Rajagopal, son of S. Narayanan and Venkatalakshmi, from Cheranmahadevi, Tirunelveli, grew up in West Mambalam. He studied at P. S. Secondary School. He completed his MBBS at JIPMER, Pondicherry, and went on to complete his MD at Maulana Azad Medical College in 1968.
In 1969, he married Padmini, daughter of Dr. V. Ramachandran and Sundaram Ramachandran, granddaughter of A. K. Ramachandra Iyer of Midland Theatre.
He began practicing medicine at Kutchery Road in the same building as Dr. V. Ramachandran, Ophthalmologist, and worked his way from humble beginnings in 1970 to establishing Midland Clinic, now a well known medical practice in Mylapore, serving patients from all across Chennai.
He also served as Chief Medical Officer at Parry and Company in his early days.
Dr. Rajagopal loved his medical practice, driven by a dedication to restoring health and treating his patients. Many of his patients have been with him for close to five decades and consider him an extension of their families.
He was a rarity in the medical profession, making home visits, and attending to patients at all hours of the day and at a moment's notice, all of which he continued to do even during the pandemic.
In service to the community, Dr. N. Rajagopal has held an annual free Diabetes Camp since 2000.
The outpouring of affection and kind words after his passing reflect this indescribable loss. From neighbors,  "I remember how much he has taken care of this entire Luz Avenue and beyond… He was a gift to everyone who ever met him; always encouraged others to be the best they could be." from friends, "Our friendship is over fifty years… He was dedicated to his work and he left serving the noble profession till the end." "Always immaculately dressed Raji (as we used to call him) was a very nice human being.", from patients, "Dr. Rajagopal was a wonderful man, always positive and full of life and one always felt better and more confident of the time ahead after an hour's sitting with him, and a message from his grandchildren, "We love you so much nana."
He is survived by Padmini (wife), Pavitra (daughter) Arjun (son-in-law), Shravan (son), and Ankita, Anish, and Ekta (grandchildren).
Padmini Rajagopal can be contacted at 9884207617.