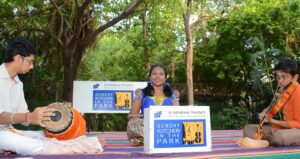 This July 5 Sunday morning, the Nageswara Rao Park should have been abuzz with the monthly mikeless kutcheri organised by Sundaram Finance. However, the extended lockdown has meant the cancellation of the Sunday Kutcheri in the Park for the fourth successive month.
5 years ago this day, on a Sunday,  the 5th of July 2015, R. Harini, a student of Shubha Ganesan, presented her first ever Kutcheri as a 13 year old at the Chess Square of the Nageswara Rao Park as part of the monthly Sunday Kutcheri. ( seen in first photo)
The park kutcheri seems to have indeed served as a launch pad for Harini to go up in her musical career. She has just completed her Class XII exams and joined an online CA Foundation course.
With the lockdown hitting everyone hard and restricting external movement, Harini has begun taking music classes online as directed by her guru.
Harini has fond memories of her first Kutcheri, "When I was chosen for the mikeless kutcheri by Sundaram Finance, I was quite nervous to present in front of the park audience as it was my first public performance. But singing without a mike and speakers helped me sing naturally and the feedback was generally good which gave me a lot of confidence."
In April this year, just after the lockdown began, Harini received a big boost when her guru asked her to take classes, online. "I saw it as a big endorsement from my guru of the progress I had made in the last five years. I have now been taking classes for three students including one from the USA thrice a week over the last three months. And it has been a good experience. It has also opened my thoughts to exploring the possibility of becoming a music teacher in the future" says Harini.
Commending the musical commitment of Harini, Shubha Ganesan said that she was a regular student even a few days prior to the Class XII exams and that she has evolved in music over the last few years "I showcase Harini as a role model to all those taking to music," says Shubha.
Harini has also donned the role of music guru for her younger sister who now looks up to her for everything in music.
Roll back a further five years, to the first Sunday of July in 2010, there was an interesting artiste presenting the Kutcheri in the Park.
While most often, it is vocal performance at the park kutcheri, Sundaram Finance chose an eleven year old violinist to present a solo performance.
A decade later, S. Sayee Rakshith, a qualified ACCA from UK, is a regular as an accompanist at the sabhas during the margazhi season. Last year, he went on a musical tour of the USA along with the Thrissur Brothers.
Looking back at the 2010 kutcheri, he remembers being nervous. "The park kutcheri was much talked about at that time, was well covered in the media and I remember being nervous that morning ahead of the kutcheri."
His guru for the last few years Padmashri awardee and violin maestro, A. Kanyakumari, who has never charged a fee from her students, is all praise for providing the solo opportunity to a violinist.
"Most often, violinists are seen only as accompanists and are not given their due. It is heartening that Sundaram Finance presented that solo opportunity to him very early on in his career that served as a launch pad for him. In the years that I have seen him, he has shown exemplary attitude to learning, has displayed true guru bhakti, has rarely been distracted and has focused on improving his violin skills."
Testimony to his musical growth can be seen from the fact that Sayee Rakshith has been Kanyakumari's accompanist in her kutcheris in the sabhas. Quite a creditable achievement this.
These are two anecdotes from the pages of a unique cultural event in Chennai.
(( )) SHARE your own experience of the Nageswara Rao Park concert series. Post here!