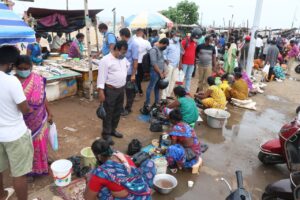 People who cannot do without seafood now and then on their table cannot resist the temptation of driving down to the open-air, fish hawking market off the Marina.
And so, on Saturday evening, July 18 there were hordes of people, man and women, almost all wearing masks but some without crowding at each of the some 50 to 60 hawker stalls on the Loop Road.
The crowding was due to the lockdown on Sunday. The market will remain closed.
Also, the big boats have started going deep into the sea to fish and the catch is large and much of the variety of fish which big-time wholesalers wave away is bought by city retailers and transported across the city.
Fisher folks off the Marina are small in number so the women hawkers sell fish from Kasimedu harbour and the locally caught.
Local police have tried to regulate shoppers here but it has been a frustrating experience for the uniformed from Pattinapakkam police station.