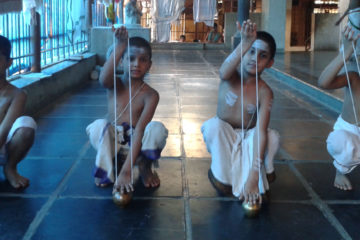 A locally based entrepreneur has created an online, audio-based service that can help those who have to perform Avani Avittam rituals this season when the pandemic will not allow for the ritual to be followed the way it has always been.
H. Narayanan, the creator of this tech tool says his creation is a result of his own experience in addressing the ritual.
In a note sent to Mylapore Times, Narayanan says – Nithya Karma means karmas or rituals which should be performed by the Sanatana Dharmis on a regular basis. The objective of starting Nithya Karma was to equip Smarthas and Vaishnavas to practice Sanatana Dharma or eternal righteousness using a union of tradition with technology.
Avani Avittam comes on 3rd Aug (Yajur), 4th Aug (Rig) and 22nd Aug (Sama) (depending on the Veda one follows) and it is usually performed in groups, at temples. Due to Corona and social distancing norms, that is not an option to pursue. 
Narayanan says that after consulting various matams, his team is recording the required audio based on community (Iyer/Iyengar, Vadagalai/Thengalai), Vedam (Rig, Yajur, Sama) and location (customised sankalpam, which is location and time based).
The same will be uploaded to the user's Nithya Karma profile 2 days before date of Avani Avittam. For those in India, Narayanan is also offering the Avani Avittam kit comprising of poonal, pavithram and dharbai (note: shipping times are long, almost 10 days due to Covid, so earlier the person places the orders the better).
People abroad can also use this service since personal details will be captured during the sign up stage and the appropriate file will be uploaded to their respective profile.
Narayanan is based out of R. A Puram,