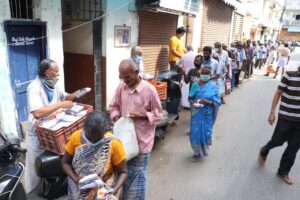 Though the annual Panguni festival of Sri Kapaleeswarar Temple got cancelled in March, this small community of Mylaporeans at Mathala Narayanan Street, Mylapore did not break its tradition of distributing home-cooked food to the public.
Soon after N. Vidyanathan and family got to know that the festival would not be held due to lockdown they came up with a novel idea.  And decided to distribute food to homeless persons instead.
For some 50 plus years, every festival this family has been distributing food to thousands of devotees during the Ther and Arubathumoovar days of the Panguni festival.
Says Vidyanathan, who resides in this narrow street, "The tradition was started by my father the late Natraj Iyer. So, when the festival got cancelled, we did not want to break it. Hence we decided to distribute lunch to homeless persons."
He says, "Initially, our plan was to distribute food for two days, on which Ther and Arubathumoovar was scheduled. But then, friends, relatives and well-wishers, besides residents of this street donated funds. That enabled us to carry on our service till now."
On July 26 (Sunday), the group clocked 114th day of their service.
During the initial three lockdowns, Vidyanathan says they would go to all local GCC offices and distribute food packets to frontline workers.
"We would also distribute food to homeless persons and others on the streets. In all 1200 packs would be given away daily. However, after the 4th lockdown, we restricted to one division (ward 125) near our residence, to ensure our safety."
Now, every day the group distributes 600 food packets outside Vidyanathan's residence. "Each person will be given rice (sambhar rice /curd rice/ variety rice), appalam and a water bottle. We prepare sweets on some days."
The food, he says is prepared at his family's century-old house. "We have a cook and two helpers, who cook the day's food."
Vidyanathan says the cooking starts at 3.30 am daily. Once, food is ready, the helpers along with volunteers gather for packing. The distribution takes place between 10 am and 1 pm.
He says the volunteer group follows all precautions advised this season. "In fact, we have also been distributing masks to the poor."
The group plans to continue its service till end July.