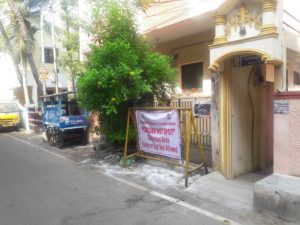 A total of 18 streets in Mylapore reported virus cases on August 11.
According to Chennai Corporation's data, streets including C.P. Ramaswamy Road and Nochikuppam, that had not reported cases for over a week, saw new virus cases, on Tuesday.
Here is the list of streets that reported cases on this day.
Ward 121: P.S. Sivaswamy Street
Ward 123: Abhiramapuram 4th Street, C.P. Ramaswamy Road
Ward 124: Solaiappan Street, Kutchery Lane, New Street, Loganathan Colony, Sundaragramani Thottam, Alamelumangapuram.
Ward 125: CID Quarters, Dr Radhakrishnapuram Road, Nochikuppam Slum, Nochi Nagar Slum Board colony
Ward 126: Vanniyambathy Street, Jeth Nagar 3rd Cross street, Kanagaraya Malaiyappan Street
Ward 173: Robertson Lane, Govindaswamy Nagar Slum
The information is provided by Chennai Corporation at its website
https://www.chennaicorporation.gov.in/images/POSITIVECASES.pdf
Picture: file photo shot in late May 2020