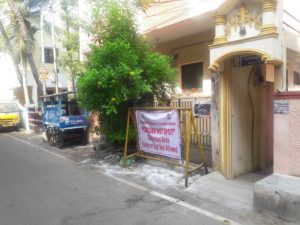 For a second consecutive day, on August 1, the number of streets reporting virus cases in Mylapore remained a single-digit number.
According to Chennai Corporation's data published on its website, only 9 streets reported cases on this day.
The number first came down to a single digit on July 31, with only 6 streets reporting cases on this day.
Of the 9 cases reported on August 1, 4 were reported at Ward 124 and three at Ward 125. And one each was reported at Ward 122 and Ward 126.
Ward 121, Ward 123 and part of Ward 119 in Mylapore did not report any virus cases on this day.
Here is the list of streets that reported virus cases on August 1.
Ward 122: Adyar Club Gate Road
Ward 124: Chitrakulam West Street, Adam Street, Thengur Selva Vinayagar Koil Street, Rama Thottam Pillayar Koil Thottam
Ward 125: San Thome High Road, Karaneeswarar Koil Street, Nochikuppam TNSCB
Ward 126: Thiruvalluvarpet
The information is provided by Chennai Corporation at its website https://www.chennaicorporation.gov.in/images/POSITIVECASES.pdf
Picture: file photo of May 2020