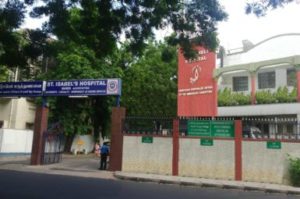 St. Isabel's Hospital in Luz is now providing out-patient services for the public.
Till a few weeks ago, the hospital was handling only emergency cases, as a precautionary measure to prevent virus spread.
Now, in addition to attending casualties, the hospital is also treating patients with general medical issues like fever, and common cold.
Several precautions are also put in place to curb virus spread here.
Says a senior staff at the hospital, "Right from watchman to doctors, all are provided with PPE kits. Three-ply masks are given to all support staff including ward boys. Besides, we check temperatures of every patient/visitor at the entrance."
The hospital has also placed chairs inside its premises for patients to sit and wait, following social distancing norms. "General physicians/specialist doctors are available to treat outpatients. However, timings cannot be specified as they work in different shifts."
Whenever necessary, she says they also admit patients after taking necessary precautions.
"If in case, a patient shows virus symptoms, we immediately refer them for testing at government hospitals," she says.
People are advised to take appointments before dropping into the hospital. Casualty department will be open 24/7.
At No: 49, Musuri Subramaniam Road (Oliver Road), Next to Luz Church. Ph:24991081