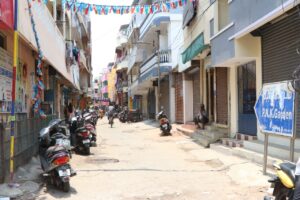 Yet another Sunday lockdown on August 30 passed away quietly. The total lockdown on Sundays has been enforced for many weeks now in an attempt to curb spread of the pandemic.
On our rounds of the Mylapore neighbourhood this Sunday morning, we chose to go down the small and inner streets of the area. Pattunool Karan Thottam ( shown in the photo), Arundale Street, Nadu Street, Arisikaran Street, Adam Street and the like.
Families stayed indoors in most streets while in others we saw people on cycles or bikes on short errands.
Some people were seen at their gates or balconies chatting with neighbours.
There were no signs of pushcart hawkers doing their rounds nor were any small, local shops open for business.
GCC, the civic body continued to hold its daily virus screening camps as per its schedule but as has been the case, attendance of lockdown Sundays has been minimal.
Life on the main roads was 'dead' save for the odd car or bike and very few policemen were seen on patrol.