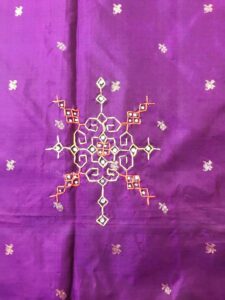 P. Malathi, a resident of Lazarus Church Road, Mandaveli has turned into a home-tailor, this lockdown.
The 40-year-old is now providing all kinds of cloth alteration services for women and children.
She also offers embroidery services to alter new/old blouses and saris.
Says Malathi, a homemaker and a mother of two, "Tailoring is my hobby. Since my college days, I have been stitching and embroidering all my blouses and saris."
She says she also stitches cloth bags out of leftover blouse bits. And makes unique embroideries on them.
A few weeks ago, she started a home-based stitching business, as "I had enough time after my household chores."
"My idea is just to help people with cloth (churidar, ready-made dress) alteration. Making profit is not my priority now."
Malathi has also spread the word about her business to friends and neighbours. "There have been some enquires. I hope customers will gradually drop-in," she says.
Malathi plans to start a small tailoring shop once life returns to normalcy.
She charges according to the kind of alteration required. People who may want her services may reach her at 9791103867/9443291429.
Picture shows a piece of embroidery made by Malathi