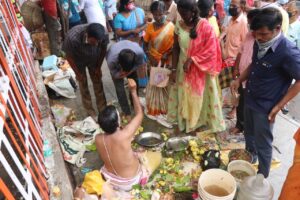 Hundreds of people turned up on the east and west sides of the tank of Sri Kapali Temple in Mylapore this morning ( Sept.17) for Mahalaya Amavasaya rituals that remember ancestors.
Since 5.30 a.m., there were no less than 100 people on the pavement of R. K. Mutt Road, and all of them were hoping that they would get access to the temple tank.
But the gates were not opened.
They then resigned to performing the rituals on the pavement. By 7 a.m. the crowd was large, adding to it were dozens of hawkers who sold things needed for the rituals.
Police began to patrol the zone, making sure that traffic, as it increased in volume flowed smoothly.
A few GCC staff did the rounds asking people to keep their masks on but they left as the crowd increased.
There was no adherence to social distancing and a good number of people had either slipped down their masks or did not wear one.