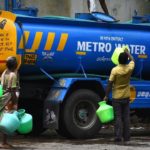 Metro Water's area engineer for Zone 9 says that no major work has been scheduled in the Mylapore area for the next three months.
He says, "October, November and December are monsoon months and since the Corporation undertakes several maintenance works during this period, we don't schedule any major works that need road digging or other alterations during this time".
As regards the water supply he says 700 MLD (million litres per day) is currently being supplied to the residents of Mylapore every other day. Water is drawn from Veeranam Lake and the desalination plant at Minjur.
When asked if rain water harvesting efforts are on by the staff, he says that because of coronavirus the staff are not making house visits. They however continue to provide assistance to individuals who need help on rain water harvesting projects at their homes or apartments.