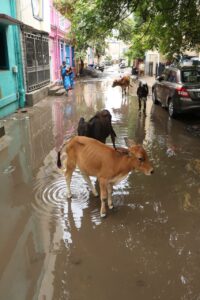 The heavy, steady rains across the Mylapore neighbourhood on Friday night ( Sept.18) showed up not only the large amount of rain that this part of the city received but also the water stagnation that affected residents in many inner streets of Mylapore.
One section of Kesavaperumal Koil East was flooded with water and people who had to walk out to buy milk or shop early were forced to wade through rainwater here. ( photo here is of this street)
A whole section of Mundagakanni Amman Koil Street was also under water this Saturday morning with pedestrians forced to wade through ankle-deep water.
Elsewhere, in Abiramapuram's Subramaniam Street, ankle-deep water remained stagnant on Saturday morning; there was no provision for the water to drain off here. This was the scene in a few other inner streets across the area.
The Chennai Corporation playground on St Mary's Road and the open ground in Pattinapakkam looked more like little lakes, filled with large sheets of rainwater. Local children found the occasion just right to cycle through the water or run through it in these grounds.
Last night's rain did show up shortcomings in the drain system in some areas of Mylapore. It also showed up the need to have more street-level rainwater harvesting systems constructed to tap this water.