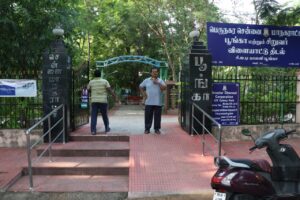 A few large parks of Chennai Corporation in the Mylapore zone were open to the public this morning following ease in pandemic time regulations made by the state.
The large park in CIT Colony ( seen in the photo here) was open at 6 a.m. and a few walkers who were regulars here were happy to walk into the park and enjoy their walks inside.
But there were no signs of either guards keeping an eye on people's movements or all visitors wearing masks as per rules or a facility to sanitise at the gate.
The gates of the hugely popular Nageswara Rao Park in Luz were opened only after 8 a.m. Wednesday ( Sept.2) since some basic arrangements as per SOPs had to be made.
Handwash facility is now provided at the main and rear gates of the park and GCC has also assigned a staffer to regulate admission and keep an eye on the movement and behaviour of those who are inside the park; the intention is to get all visitors to wear masks, keep social distance and not meet up in groups nor allow people to hang around the campus here.
But ensuring that regulations are followed now by people is a tall task in a park that is well-patronised in ordinary time.
The gates of the GCC park in Mandavelipakkam, another popular park for that neighbourhood remained closed as of 8 am today.