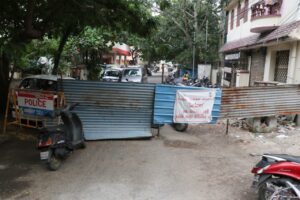 This past fortnight, part of a busy street that runs off the Bazaar Road area in Mylapore has been treated as a containment zone.
A senior official attached to Chennai Corporation confirmed this information.
He said that a part of this street covering 50 households was 'contained' after 7 residents of this area tested virus-positive.
The street witnessed it's first virus case on Sept. 24. The official said a man residing at this street tested positive after he came in contact with his virus-positive friend at a city hospital.
Soon his wife and son too tested positive. And in the next few days, two of the man's neighbours also tested positive. The official says that the neighbours, a senior couple would have got the virus from the man/his family members, who first tested positive.
Around the same time, one more resident, who was working at a government office turned virus-positive, the official said.
While the senior couple were taken to hospital for treatment, the other virus-positive persons were kept in-home quarantine.
Following this, a part of this street covering the houses of these virus-positive persons was 'contained' to prevent further virus spread. Barricades were used to discourage free movement of people from around and outside.
Over the past few days, the civic workers have been holding frequent fever camps here and testing residents to identify persons with virus symptoms. They say that residents of all 50 households that came under the containment area were sent for virus testing. And residents living on the other end of the street too were mobilised for fever camps.
The local health aid staff say they have also been sanitising the entire street to curb virus spread.
In the last 24 hours, all virus-positive persons have recovered and since no new cases have popped up here in the past few days, today (Oct 14) is the last day of containment here. From tomorrow, it will no longer be a containment zone, the official said.
However, the Chennai Corporation's website that lists the containment zones in the city daily, does not mention this street as a containment zone.