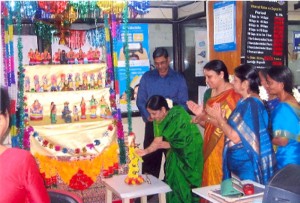 Navarathri celebrations seem to be on a low key this year. This, going by what Mylaporeans are sharing and talking about with friends and relatives.
Navarathri has always been a busy time for senior Mandaveli resident Kalyani Muralidharan. But this year, she says the celebrations are going to be low key.
Over the past decade, Kalyani has won several kolu contests conducted by various groups. Every year she has a theme like Krishna Avatar or 'the food chain'. This year however, she has decided to keep a simple traditional kolu.
She says, "I had planned Dasavatharam as the theme this year but will not be able to do a thematic kolu this year due to the pandemic. We will also not be going out to buy any dolls. Last year, just after Vijayadashami, we purchased two new dolls – Panchamukha Anjaneyar and Perumal Viswaroopa darshanam."
Kalyani also says that most of her relatives and friends have told her that they will not be coming home to receive the tamboolam. She says that while she will not be inviting  people home, whoever drops in during that time will be given a thamboolam.
Ganga Sridhar, a resident of Raja Street, Mandaveli, is also being cautious. She says, "We usually have more than 100 women come over to receive thamboolam every year. This year, I will probably call only my closest friends and relatives, about 15 of them and with social distancing".
Ganga says she plans to have an online kolu meet with her friends through Zoom during Navarathri. She says, "Where they got the dolls from, what their theme is and talks on other aspects of the golu has always been enriching. I did not want to miss out on such discussions".
Mylapore Times asked Mylaporeans on its Facebook page to tell us how different the festival may be this season. These were some comments –
Lalitha Hariharan she has planned for a simple kolu. "We will be at our temple every morning for the pooja and in the evening there will be Lalitha Sahasranamam archanai followed with Mahishasura mardhini sloka recitation."
Sudhakar Srinivasan says the family will not be sending out invitations or will they be visiting friends and family. He says, " People will find more time to spend in front of Durga, Lakshmi Saraswati with great devotion."
Meenakshy Navaneethakrishnan says, "Kolu will be kept as usual in our house. In fact we bought new dolls for the kolu but there will not be guests nor will I be inviting people this year. I hope our neighbours and my daughters' friends understand this situation."
Shobana Raj feels that Navaratri season this year is going to be so very different. "Our focus will be on the poojas. We are setting up the kolu but guests and relatives will get to see the kolu online and I intend to send thamboolam through Dunzo."
Rajasri Srivathsan says she cannot bypass the tradition of keeping kolu. "But at the same time, we need to follow the virus-time regulations and be mindful of others' health."
Srividya Srikanth says Navaratri is going to be a low-key celebration because there are seniors in the family and they must be protected from any transmission of the virus that may spread if guests keep dropping in.
"The tradition will be followed but with less visitors. I feel sad for the artisans, the sellers of gift items, thamboolam bags, etc. After so many months of lock down, they may have looked forward to making some money during Navaratri and Deepavali. I don't think sales have been good."
Photo used here is from MT archives and used for representation purpose