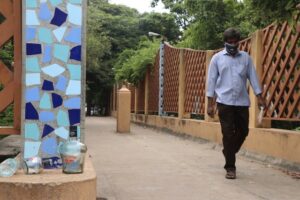 Residents of Mandaveli – residing on South Canal Bank Road and Robertson Street – have a serious complaint to make to local police. The worrying issue of people using spaces on the small bridge across the waters of the Adyar Poonga as a space to consume liquor.
The small bridge allows people to walk or push a cycle across from the Mandaveli end of the area to the colonies of Rohini gardens and Karpagam Avenue on the eastern side. The waters of the Adyar Poonga move below it.
Residents say that after dusk, men gather at the corners of the bridge where there is space to sit, to consume liquor. Often, empty liquor bottles are found dumped here.
They say, street lighting is often non existent here and hence, very few people use this pathway after dusk, fearing anti-social reactions from the people who drink in the open.
People say there is a need to improve the lighting here and for police to patrol the area, detain anti-socials and curb this menace of drinking in the public space.