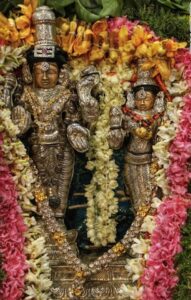 Ever since temples were opened to the public with the relaxation of pandemic time regulations, the stream of people visiting Mylapore's temples daily is thin.
In ordinary times, all the temples in the area would be busy spaces, especially in the evenings. But now, many people, especially seniors avoid visiting the temples to avoid being caught up in a crowd and getting too close to people.
Earlier this week, on prodosham evening, at Sri Veleeswarar Temple, devotees were asked to stand outside while the main rituals were on followed by the procession inside the temple. They were let in only later. There were some 20 odd people that evening though many others streamed in later.
The same is the case at Sri Kapali Temple.
Some regulars at Sri Kapali Temple say they found people crowding in the queue and that this did not make them feel good about visiting here too often so that they safeguarded themselves. One reason why seniors are rarely seem in the temple nowadays.
"There is only that much temple staff can do to regulate people so we must take care of ourselves," said one regular visitor at Sri Kapali Temple.
Photo featured here was shot at prodosham time at Sri Veleeswarar Temple, Mylapore this week.