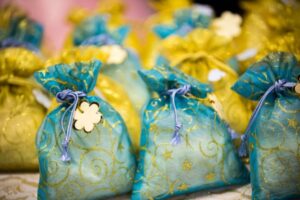 This Navaratri, Thaligai restaurant on Luz Church Road, Mylapore is offering a facility to pack and deliver sweets/snacks, tamboolam bags and other gifts to your friends or relatives, residing in India and abroad.
The restaurant has tied up with Dunzo for local delivery and a private delivery platform called 'Delhivery' for delivering parcels within India.
It also facilitates International couriers via a firm called 'Garudavega'.
Says Nalina Kannan, owner of the restaurant, "Usually, during Navaratri, it is customary for everyone to visit their friends and relative's houses and offer betel leaves and nuts/ snacks to the people there."
"Now, due to the pandemic, most people have decided not to visit their relative's houses. Hence, we introduced this service to facilitate the transport of tamboolam bags and other Navaratri gifts via both domestic and International couriers."
The sweets and snacks to be couriered can be chosen from a range of traditional sweets (pal khova, ashoka halwa, carrot halwa), savouries ( mixture, kara sev) available at the restaurant. Besides, people can also choose to send betel leaves, nuts along with the selected sweets/snacks, in a tamboolam bag, offered by the restaurant.
One can also customise and preorder the restaurant's freshly prepared sundal and send it to their local friends. "They can also choose to buy our badam milk powder or immunity-boosting turmeric latte powder and courier the same as Navaratri gifts."
People can also send their gifts like kumkum box through this service. "We pack people's gifts in eco-friendly carton boxes. If customers want, we can also gift wrap them," she says.
Courier of half a kilo snacks to Madurai will cost Rs 50. The service starts from Oct.17. For details call the restaurant at 97912 72888.
At 60, Luz Church Road, Mylapore.
Picture used for representation only; Courtesy: https://bp-guide.in/