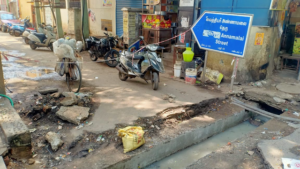 Chennai Corporation is speeding up the special project work undertaken in the Chitrakulam zone that is aimed at tapping the rainwater falling in this area to be channeled into the temple tank.
All streets alongside the tank and Mosque Street have been closed to traffic this past week to enable workers to undertake the construction of drains, laying pipes and chambers and leading these to the tank.
Over a month ago, pipes that would channel the rainwater were laid in two narrow streets on the north eastern side of the temple tank. Later, JCBs got to work on two streets bordering the tank – the streets on the east and south side.
No work has been undertaken this far on the north and west streets off the tank where numerous shops hug the walls of the tank.
It is not clear just now if drains will also be laid in these streets.
German technology has been used in laying a special drain laid on Mosque Street – to enable rainwater to sink quickly into the drains here and carry it to the tank.
Less than 24 hours after the heavy rains last week, the bed of the tank was dry though a good quantity of water collected here.