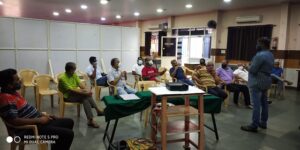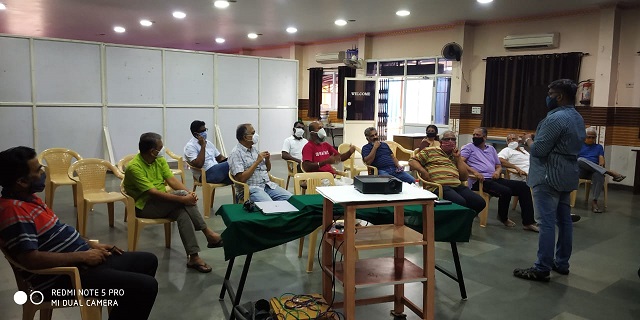 Urbaser Sumeet's team in charge of solid waste management for Ward 126 (Unit 25, Zone 9), led by assistant zonal manager for Zone 9  ( Basha) met with representatives of residents' associations and other residents from Ward 126 (largely areas in  and around Mandavelipakkam) this week.
Also present were Chennai Corporation's Ward 126 conservancy team (CI & Animator).
The agenda was mainly to get introduced and exchange numbers to the garbage clearance operations by the new agency – Urbaser Sumeet.
Basha explained how their team would work to keep the neighbourhood clean and collect & dispose garbage. These were the key points discussed –
Urbaser Sumeet's operations in Ward 126 will start on Nov.10. 
Door to door collection will be done using Battery Operated Vehicles (BOVs). 
30+ BOVs and 18 sweeping personnel have been assigned to Ward 126.
The BOVs will go around for collection from 6 am to 2pm everyday. Depending on the area / street some might make 3 – 4  trips
Residents should only hand over segregated waste – biodegradable, non biodegradable  and reject waste or domestic hazardous waste in separate containers / bins / baskets.
BOV operators will not enter residents' premises. Residents (or their maids / watchmen) need to  hand over the garbage to the operator
Sweeping of local streets will happen on a daily basis. Broader streets / roads will be swept using sweeping machines
Existing bins will be replaced by colour coded bins. One each for wet and dry waste
These new bins are only for the use of Urbaser Sumeet's BOV operators, sweepers and workers. They are not for the use by the public. Compactors will be used during the night to empty the bins
Garden waste would also be collected separately. Building debris and rubbish will not be collected by Urbaser Sumeet. Residents can contact GCC for such waste removal
Urbaser Sumeet Team which was present: W126 Supervisor: Mr. Nova Steven – 8925522376. Unit 25 (Z9), Unit Manager: Mr. Charles – 9444294326
Zone 9, Assistant Zonal Manager: Mr. Basha – 8925522345
GCC Team present at the meet: 
W126, Conservancy Inspector (CI): Mr. Hari – 9445190626. 
W126, Animator: Ms. Kavitha – 8072658768
Representatives of the Leith Castle Residents' Association (LECRA), Sivaraman Street Residents Welfare Association (SSRWA), Kalyana Nagar Association (KNA) and
Mylapore Residents Welfare Association (MRWA)
Representatives from Norton Streets, 6th Trust Cross Street, 5th Trust Cross Street and some areas of Mandaveli also participated in this meeting.
– Report and photo by Venkat Raghavan M.