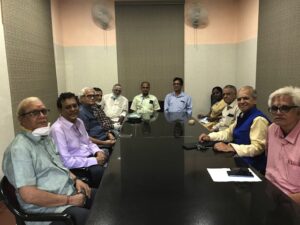 The 1970 batch of student-alumni of P. S. High School, as part of its golden jubilee has made a partial grant to the school to support academic projects.
Recently, the group donated Rs.2.6 lakhs  to the secretary of the management, K. V. S. Gopalakrishnan towards upgradation of the Computer Lab. School headmistress Kala was also present.
This is to be the first installment of a donation of Rs.6 lakhs that the alumni group intends to raise and hand over.
The project involves buying new computers and accessories, fitting wall-mounted fans and air-conditioners for the Lab.
The alumni group will hand over the final installment once the Lab is fully fitted as per plans.
Said C. R. Ravi, alumni and retired Ashok Leyland executive who resides in Norton Road zone, "We have received donations from our alumni from the city, in India and abroad."
The group now 50 strong is still keenly looking out for all those who studied in their batch.
Ravi says that there must have been close to 250 students in some 11 / 12 sections – only one of which was the English section, the rest Thamizh medium.
Adds T. N. Janakiraman, also alumni member and retired State Bank executive living in Mylapore, "We have a active WhatsApp group. The pandemic has not allowed us to draw up plans to host a big get together."
Dr. U. V. Ramakrishnan based in Appu Street heads the alumni group.
Contact C R Ravi at 9444012041 or Janakiraman at 9380523306.