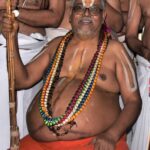 Srivan Satakopa Sri Ranganathan Yathindra Mahadesikan, the 46th Jeer of Sri Ahobila Mutt, who had last Friday (December 11) blessed the opening of 'Sri Venkatesa Theertham' in Mylapore, will be arriving with his presiding deity Sri Malolan and camping at Sri Vedantha Desika Hall, Venkatesa Agraharam, Mylapore, for about 10 days starting Wednesday December 23.
He will perform the margazhi daily puja during his stay.
Following the Viswaroopam at 4.45am, there will be Thiruppaavai chanting from 5.15am and Mangala Haarathi and Theertham, Sri Satari and Prasadam distribution from 6.45am. During his stay, HH will also perform Samasrayanam and Bhara Nyasam.
On three evenings from December 23, HH is likely to present Thiruppaavai Upanyasam at the Vedantha Desikar Srinivasa Perumal temple.