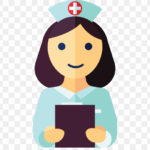 As the virus cases have come down in the neighbourhood, Chennai Corporation's nurses who were engaged in Covid-19 duty, are now back to performing their routine work at the local Urban Primary Health Centres (UPHCs)
Following the lockdown in March, the Corporation roped in its nurses to perform virus containment activities in the neighbourhood. And hence, the nurses performed door to door fever survey. And assisted health workers at fever camps.
But now, as the cases have reduced, they have been relieved from Covid duty and are carrying out their routine work at UPHCs.
Their work includes organising periodic health checkup for pregnant women, administering vaccines for children and adults in slum areas besides treating people for general issues like cough and cold.