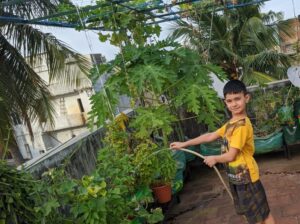 Kids at this apartment complex in Mylapore are trying out new ways of gardening, these days.
After learning that a tomato plant at his garden was not bearing fruit, 8-year-old Arjun, a resident of Dwaraka Apartments, at Raja Street, Mandaveli recently sang Carnatic music for it. And to his delight within two days, the plant bore about 20 tomatoes.
Says Arjun's mother Ganga Sridhar, "Although we were taking proper care of the tomato plant, it was not bearing fruit since a long time. So I suggested my son to try singing. He sang. And the results have been mind-blowing".
Children of her complex, she says, have always been fascinated by the garden. The lockdown has just facilitated them to spend more time with the plants, Ganga says and adds, "Almost all kids of our apartment, right from the youngest 3-year-old spend at least few minutes at the garden, every day. They also help us in watering the plants."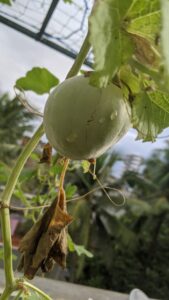 Ganga, along with some of her neighbours started a terrace garden at her complex four years ago. Three months ago, she developed her garden by setting up a trellis for her creepers. She also began growing a variety of plants, with support from R.A.Puram resident Sumitra Srikanth's Aapti Garden Solutions.
Her terrace garden now has a wide range of vegetable (tomato, brinjal, lady's finger, Malabar cucumber), fruit (papaya, musk melon) and flowering plants.
The residents also grow herbal plants like mint basils and koththamallis. "All vegetables, especially the mint basils and mallis come handy for use in the kitchen." The green thumbs have also been composting veggie and fruit waste and are using it as manure for their terrace garden plants.
Picture courtesy: Ganga Sridhar;