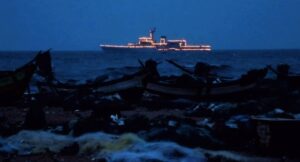 Every year, December 4 is celebrated as Navy Day and as part of the local celebrations, INS Adyar, the naval establishment based in Chennai had its own celebrations.
In the evening, two Navy ships, INS Sumitra and INS Sukanya. which were fully illuminated were anchored in the seas off the Light House on the Marina beach.
These ships were stationed here till midnight.