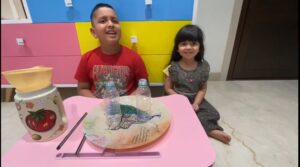 Meet 8-year-old Atharv and 4-year-old Amara, whose science YouTube channel is gaining huge popularity by the day.
The YouTube channel that these siblings started amidst the pandemic in June has now garnered over 620 subscribers.
It all started after the lockdown in March. Cocooned at their home at Luz Church Road, Mylapore, Atharv and Amara were bored.
And although they engaged themselves in reading, writing, painting and baking, they wanted to do something different.
And so when their school (Sishya, Adyar) launched an Instagram page to feature student's talents, they began putting out videos in a subject that interested them the most – 'Science'.
Soon, their videos got a wow response. Everyone from duo's teachers to friends and family members encouraged them to continue making such videos. This prompted them to start a YouTube channel. And hence, they launched the channel 'Fun with Atharv and Amara' and started putting out science videos in it, regularly.
In the videos, Atharv and Amara demystify complex laws and principles of Science. They explain each concept in a simple manner. And also support it with fun and innovative experiments, that are easy to understand. This very nature of their videos has garnered them hundreds of subscribers, within a short period.
Says Atharv, "All our videos are shot at home. And we use only household items like pans, bowls and bottles to explain the science concepts. While I break down a concept and do the explanation, my sister Amara too helps me in the entire process."
Chips in Amara, "I also help him in picking up stuff for the experiments."
The duo has so far made some 28 videos covering a range of science topics including friction, surface tension, polar molecules, density and Sir Issac Newton's laws of motion.
Says the duo's mother, Chetna Jain, "They pick topics for the videos by observing day to day happenings. Once they choose a topic, they research the science behind it and prepare for the video. Of course, I too guide them."
Their ultimate aim, Atharv says is to make science fun for everyone. In the future, Atharv wants to become a cricketer/scientist or a 'taekwondo fighter', Amara aims to become an astronaut like Kalpana Chawla.
People can view their videos at https://www.youtube.com/channel/UCjlhhcmXorfdiL_3sLylLuw