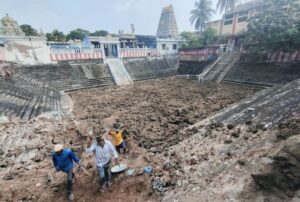 Work is underway at the tank of Sri Madhava Perumal Temple in north Mylapore to reset the bed of the tank.
The existing layer of mud and vegetation has been removed and fresh soil, said to be sourced from Kanchipuram district is being filled up in the bed of this tank.
It is said this is being done to slow down water percolation and help retain water in the tank. At present, all the water that gathers here after steady rains is not seen days after the rainfall because the tapping of groundwater all around by borewells installed by residences sucks up all the ground water and renders the tank dry.
Mylapoee MLA, R. Nataraj is said to be working alongside officers of HR & CE Department on this initiative.
Previously, pipelines were laid from areas around the temple to lead rainwater into the tank.