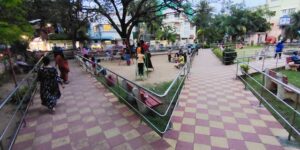 One community space which is abuzz following the relaxation in pandemic time regulations is the Chennai Corporation park off Lazarus Church Road in R. A. Puram.
Weeks after its gates,like those of other parks were opened to the public, walkers are making full use of the walkways inside, morning and evenings. So are senior citizens who amble around and them sit down to chat with people they know.
But the ones who seem to enjoy the open space best are children of this area. In the evenings, more on weekends, children pack into the play zone inside this park.
Just that many people who use the park have given up the practice of wearing masks.