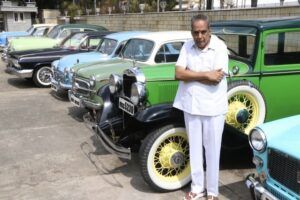 Check out this show of vintage cars on Sunday morning in Mylapore.
Hosted by Madras Heritage Motoring Club, some 50 vintage cars owned by families of the city will be on display at the car park of AVM Rajeswari Kalyana Mantapam.
A number of the cars on display are owned by the AVM family, the movie-makers ( Seen in this photo is AVM Saravanan, film producer).
This evening, all the cars were rolled into the campus and parked in lots. Display banners highlight the vintage features of the cars.
The show is open to all, free and from 10 am to 2 p.m. only.