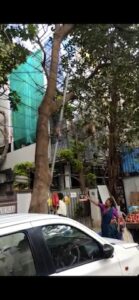 For over a month, a pack of about five monkeys have been on the rampage in Alwarpet, say residents who have spotted the animals.
One of them has complained to the local Forest Department office based in Velachery but it will take at least 3 / 4 days before that team lands up and attempts to trap the monkeys.
This is because there are only limited staff who are given charge of almost two districts to handle all SOS calls and just now, there are over 10 plaints on their list.
Meanwhile, residents living off C. P. Ramaswamy Road have had brushes with the monkeys.
"Many of my elderly neighbours  in Manasarovar Apartments on C. P. Ramaswamy Road have had to bear the brunt of the menace caused by these animals," says advocate Sanjay Pinto.